A trading journal
that really works
Discover the power of Tradiry, the ultimate online trading journal meticulously designed to revolutionize your trading experience. Developed by seasoned professionals with a wealth of expertise, Tradiry empowers you to effortlessly track, analyze, and gain valuable insights from your trades.
*Free Forever. No Debit or Credit Card needed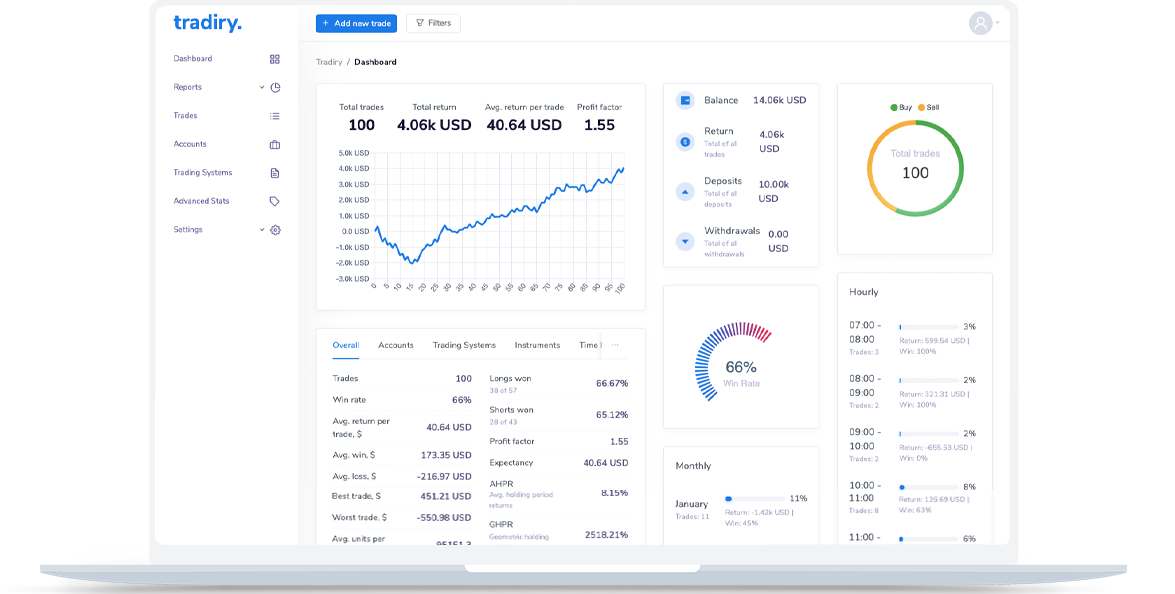 Over

10,000

traders are using our trading journal
Start using Tradiry which can provide everything you need to boost your trading performance.
Seamlessly Tailored to Every Market
Tradiry works for all markets (Crypto, Forex, Stock, Futures and Options).
Effortlessly Manage Multiple Trading Accounts
Our trading journal allows you to track multiple trading accounts
Advanced Stats
Flexible advanced stats will help to find you the strengths and weaknesses of your trading strategy
Free
Our trading journal available for free to everyone *
From traders for traders
In the realm of trading, data abundance can pose a significant challenge when it comes to tracking and analyzing your trades. That's where Tradiry, our cutting-edge trading journal software, steps in to provide unparalleled technical support. By seamlessly integrating with your trading workflow, Tradiry empowers you to efficiently manage and scrutinize your trading activities.
With our online trading journal, logging trades becomes a breeze. Our meticulously designed interface allows you to capture and organize all the essential details that hold utmost importance to your trades. Whether it's exit and entry prices, precise dates, or any other critical parameters, you can effortlessly record them in our user-friendly trade log. This meticulous record-keeping ensures easy retrieval and accessibility of trade information for future use.
Tradiry not only simplifies the tracking of closed trades but also offers real-time monitoring of active trades. Seamlessly maneuver through your portfolio, keeping a watchful eye on your open positions and average profits. Gone are the days of cumbersome paper trade journals or cumbersome Excel spreadsheets. Tradiry's sophisticated software streamlines your trade management process, eliminating potential pitfalls and enhancing your overall efficiency.
By leveraging Tradiry's powerful features, you gain a competitive edge in the trading arena. Our software enables you to spend more time on what truly matters – executing intelligent and strategic trades. With Tradiry as your trusted companion, you can navigate the markets with confidence, knowing that your trade data is meticulously organized and effortlessly managed.
Revolutionize your trading journey with Tradiry – the ultimate trading journal software built to optimize your trading success.
Tradiry trading journal available for any markets, and works with trading accounts in all currencies.
Empower Your Trading Experience with our Comprehensive Trading Journal
Discover the remarkable capabilities of our trading journal, meticulously designed to cater to traders of all levels of expertise. With a comprehensive set of tools at your disposal, you can take your trading journey to new heights:
Effortlessly journal your trades, enriching them with notes and uploaded charts for enhanced analysis and future reference.

Seamlessly add and manage multiple trading accounts within a unified platform, ensuring streamlined portfolio management.

Amplify your trading strategies with our robust trading system manager, allowing you to meticulously organize and optimize your approaches.

Dive deep into the analysis of your trades with our comprehensive reports section, unlocking valuable insights to drive informed decision-making.

Gain a competitive edge by leveraging advanced statistics, empowering you with deeper information and key metrics about your trades.

Foster collaboration and learning by sharing your trades with friends or mentors, facilitating knowledge exchange and feedback.

Streamline your trading workflow by effortlessly importing your trades from popular platforms like MetaTrader 4 (MT4), MetaTrader 5 (MT5), cTrader, and anticipate future compatibility with Binance and ByBit.
Experience the professional advantage our trading journal brings to your trading journey. Seamlessly track, analyze, and optimize your trades, bolstering your potential for success. Join the growing community of traders who trust our platform to elevate their trading performance.
Share your ideas with us
Tradiry trading journal was developed by professional traders with extensive experience. But we still want to improve. Share your ideas with us and we will be happy to review or add new features to our journal. Just text us!
Contact us
What is Tradiry?
Tradiry is an online trading journal, which helps to track, analyse and view your trades.
Why is it so important to use a trading journal?
As in any business, it's important to keep track and to monitor the performance indicators in trading. A good trading journal will help you to learn from your mistakes instead of stepping on the same rake.
How much is the Tradiry?
Tradiry Trading Journal available as Free with some limitations and Premium with all features. You may learn more on the pricing page.