Trading Journal for cTrader
Effortlessly journal and track your trading performance with Tradiry, trading journal for cTrader. Stay organized, analyze your trades, and gain valuable insights to optimize your strategies. Streamline your trading journey and unlock your full potential with our user-friendly platform.
*No Debit or Credit Card needed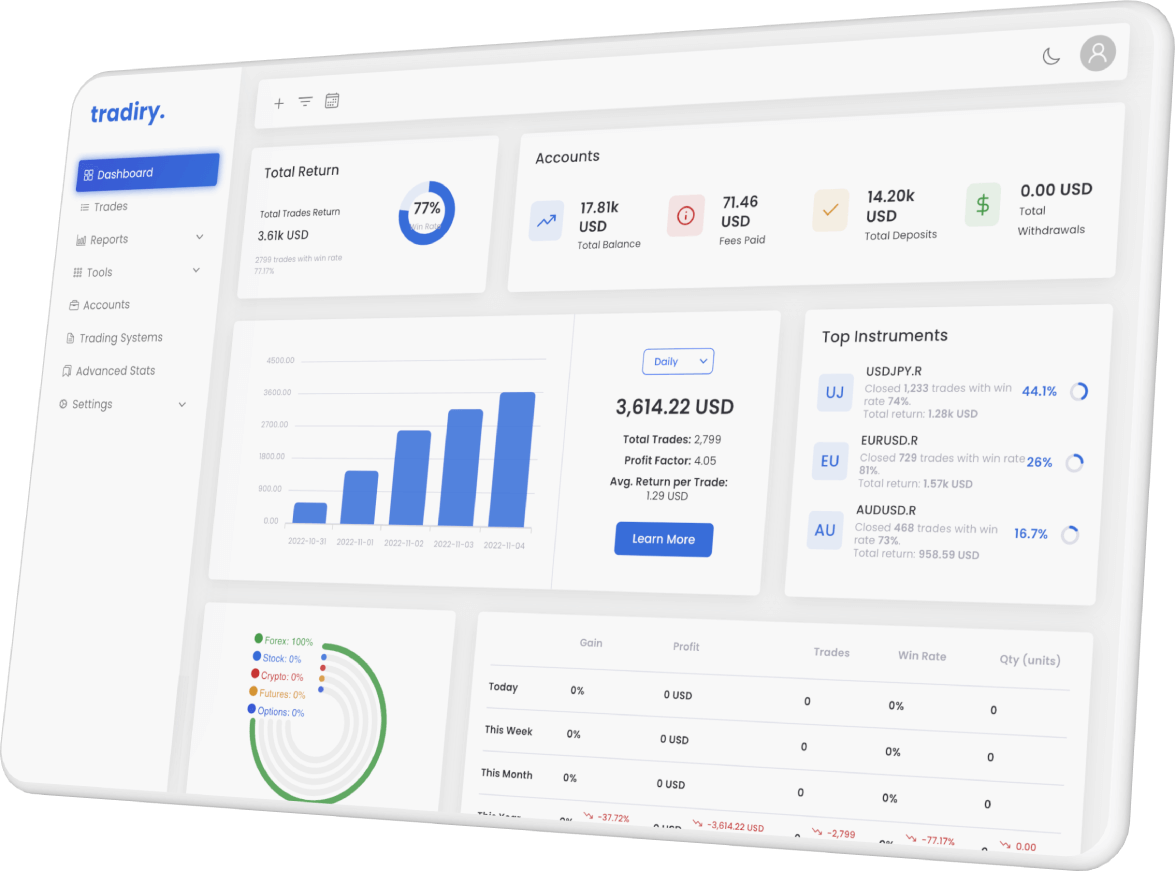 Empower Your Trading Experience with our Online Trading Journal for cTrader
Discover the remarkable capabilities of our trading journal, meticulously designed to cater to traders of all levels of expertise. With a comprehensive set of tools at your disposal, you can take your trading journey to new heights:
Effortlessly journal your trades, enriching them with notes and uploaded charts for enhanced analysis and future reference.

Seamlessly add and manage multiple trading accounts within a unified platform, ensuring streamlined portfolio management.

Amplify your trading strategies with our robust trading system manager, allowing you to meticulously organize and optimize your approaches. Track your trading performance and trading habits.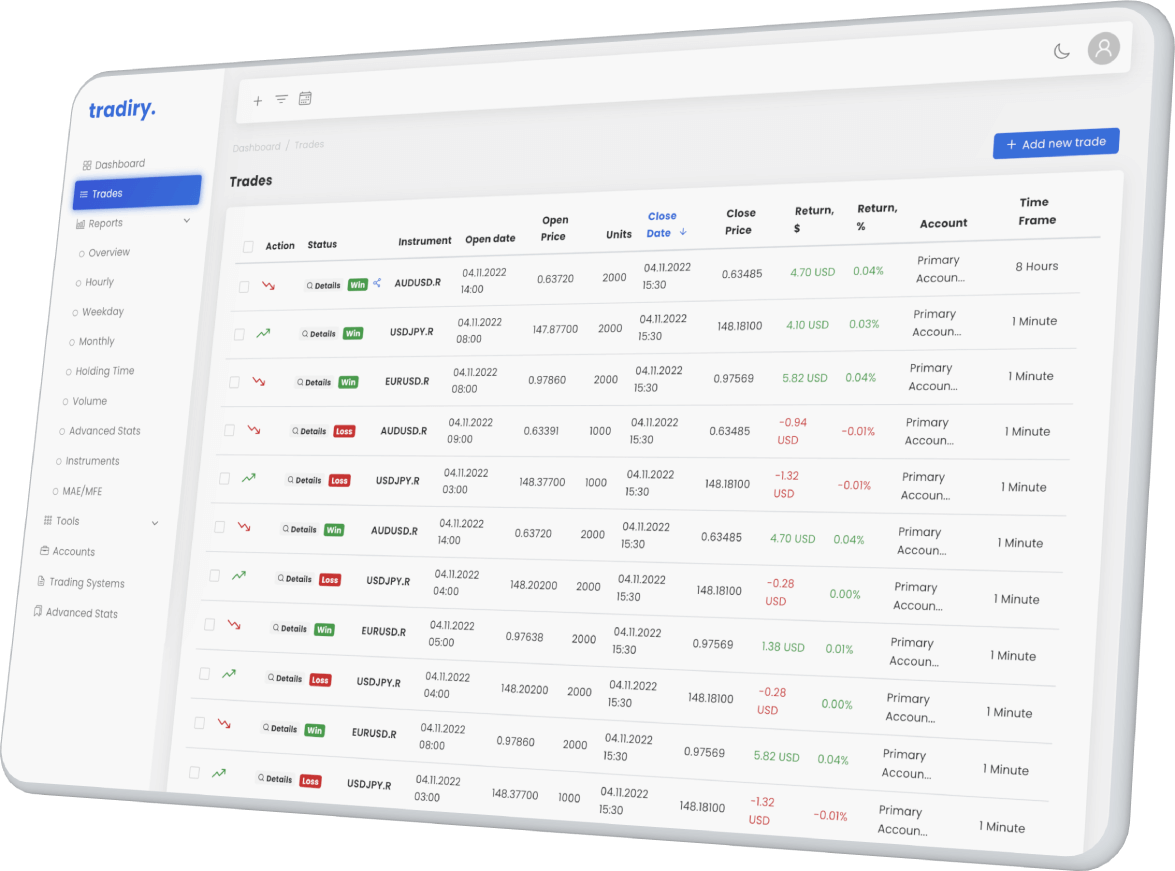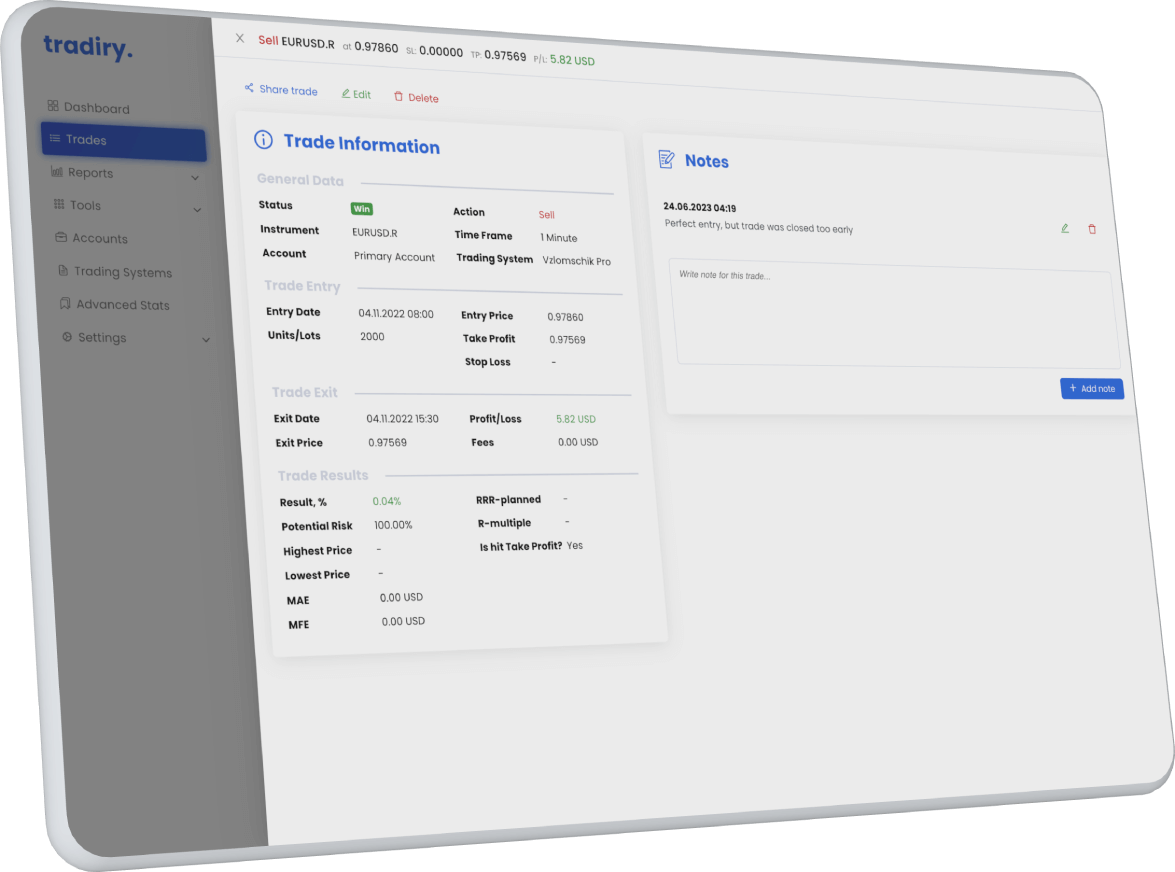 Dive deep into the analysis of your trades with our comprehensive reports section, unlocking valuable insights to drive informed decision-making.

Gain a competitive edge by leveraging advanced statistics, empowering you with deeper information and key metrics about your trades.

Foster collaboration and learning by sharing your trades with friends or mentors, facilitating knowledge exchange and feedback. Use your forex trading journal to find patterns in your trading behavior.

Streamline your trading workflow by effortlessly importing your trades from popular platforms like MetaTrader 4 (MT4), MetaTrader 5 (MT5), cTrader, and anticipate future compatibility with Binance and ByBit. See a complete list of supported brokers.
Detailed Reporting Trading Journal Software to Help You Find Your Edge
At Tradiry, we understand the importance of keeping track of your trading activities and analyzing your performance. We provide comprehensive and user-friendly trading journal software with detailed reporting features. Using these powerful features, you can gain valuable insights into your trades, monitor your progress, and make informed decisions to improve your trading strategy.
Profit and Loss Tracking: With our detailed reporting, you can closely monitor your profit and loss (P&L) across different trades and periods.

Trade Analysis and Statistics: Our platform offers robust analysis tools to help you delve deeper into your trading performance.

Visual Charts and Graphs: Visual representations are essential for quickly grasping complex data.

Performance Metrics Comparison: Use the trade journal to compare different periods, trading strategies, accounts, or trading instruments to evaluate their performance. Improve your performance and trading business results.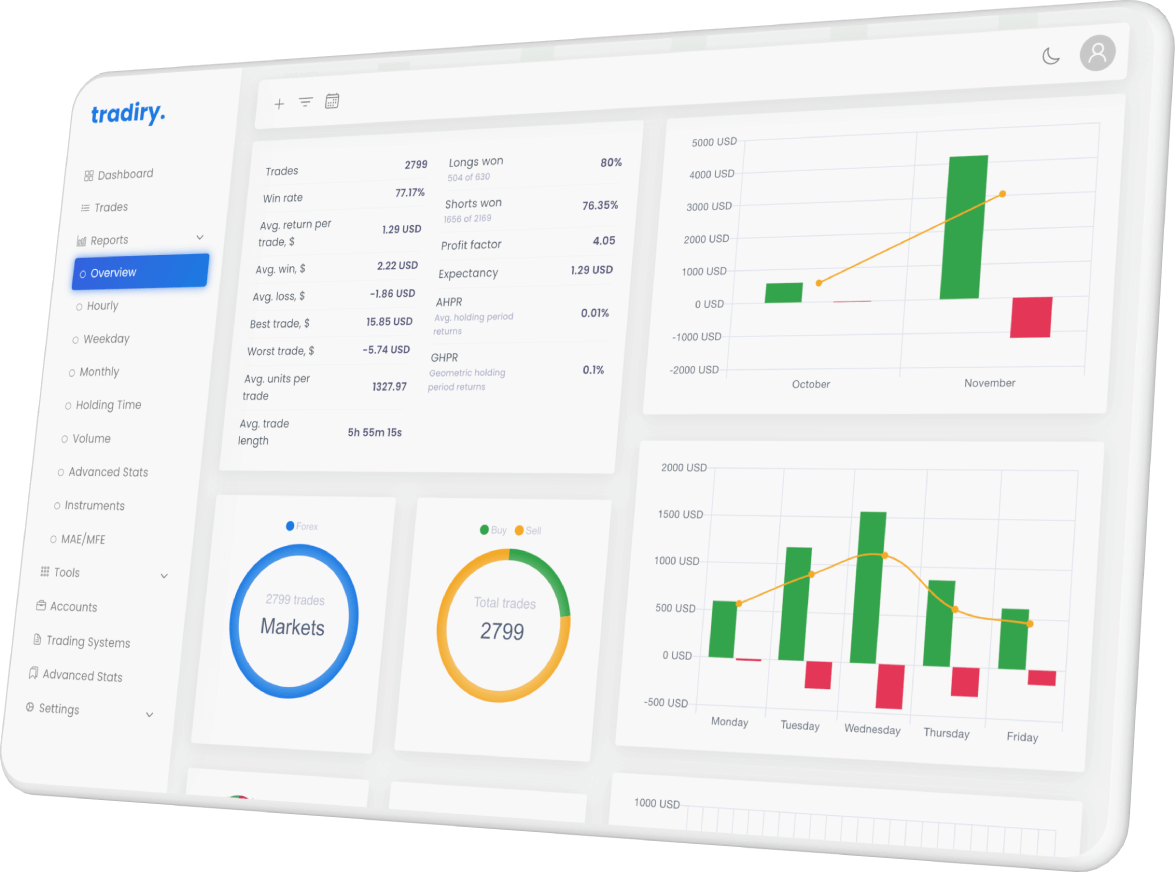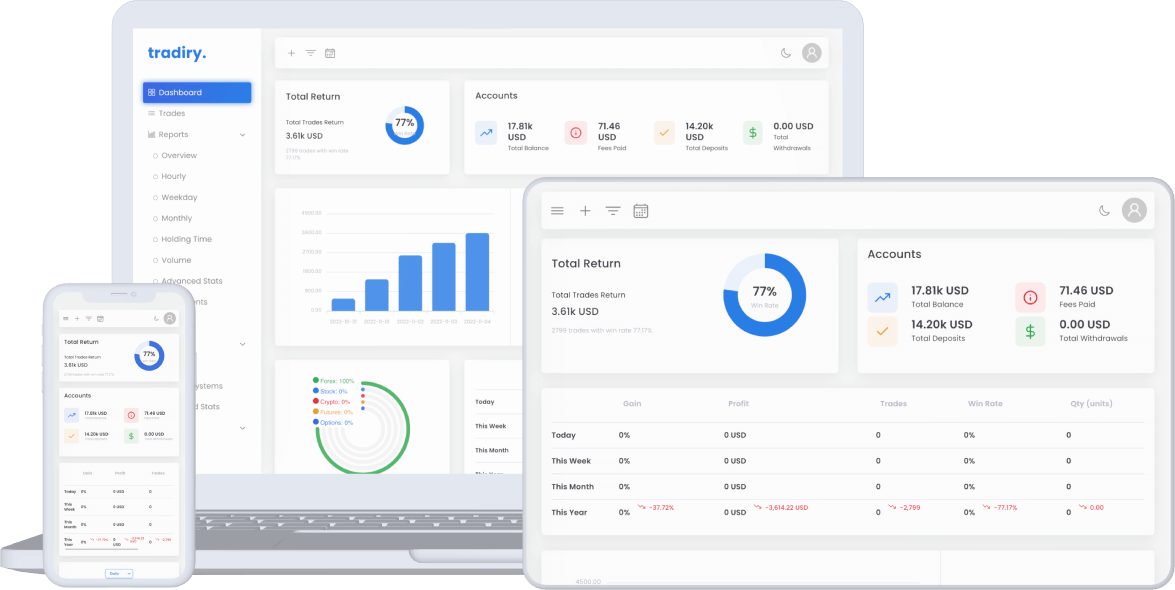 Accessible Data Anywhere for the Ultimate Trade Planning Strategies
Tradiry is a web-based trading journal platform that provides seamless access across desktops, tablets, and mobile phones (smartphones). Our user-friendly interface and optimized design allow you to review your trades conveniently from any device, ensuring accessibility and flexibility in your daily activity. Track and manage your trading goals anytime, from anywhere.
Desktop, Tablet, and Mobile Compatibility: Tradiry's web-based platform is designed to adapt and function flawlessly on multiple devices. Use our trading journal app to track your trading patterns.

Seamless Synchronization: Our platform offers seamless synchronization across all your devices. Use our unique trading journal to track trading losses and wins. We make it easier than ever before to track your trade history.

Responsive Design and Intuitive Interface: Tradiry is built with a responsive design, ensuring optimal performance and layout adaptation across various screen sizes.
Over

10,000

around the world traders are using our trade journal for cTrader
Introducing our cutting-edge trading journal software for cTrader users, that goes above and beyond to provide you with a comprehensive trading experience.
Created by traders who understand the challenges of tracking trading setups and evaluating performance, our journal addresses the detailed questions that often arise. Have you ever wondered if you perform better on Friday mornings when trading small caps? Or you may want to determine the optimal trading window for tickers that have spiked over 10%, such as Monday to Friday mornings. Our journal is equipped to handle these complex queries and more.
Our trade journal for cTrader is your indispensable companion, enabling you to analyze and fine-tune your trading strategies like never before. Empower yourself with comprehensive insights and unlock the secrets to improving your trading performance.
What is Tradiry?
Tradiry is an online trading journal, which helps to track, analyse and view your trades.
Why is it so important to use a trading journal?
As in any business, it's important to keep track and to monitor the performance indicators in trading. A good trading journal will help you to learn from your mistakes instead of stepping on the same rake.
How much is the Tradiry?
Tradiry Trading Journal available as Free with some limitations and Premium with all features. You may learn more on the pricing page.