Tradiry: The Trading Journal
That Delivers Real Results
Discover the power of Tradiry, the ultimate online trading journal meticulously designed to revolutionize your trading experience. Developed by seasoned professionals with a wealth of expertise, Tradiry empowers you to effortlessly track, analyze, and gain valuable insights from your trades.
*Free Forever. No Debit or Credit Card needed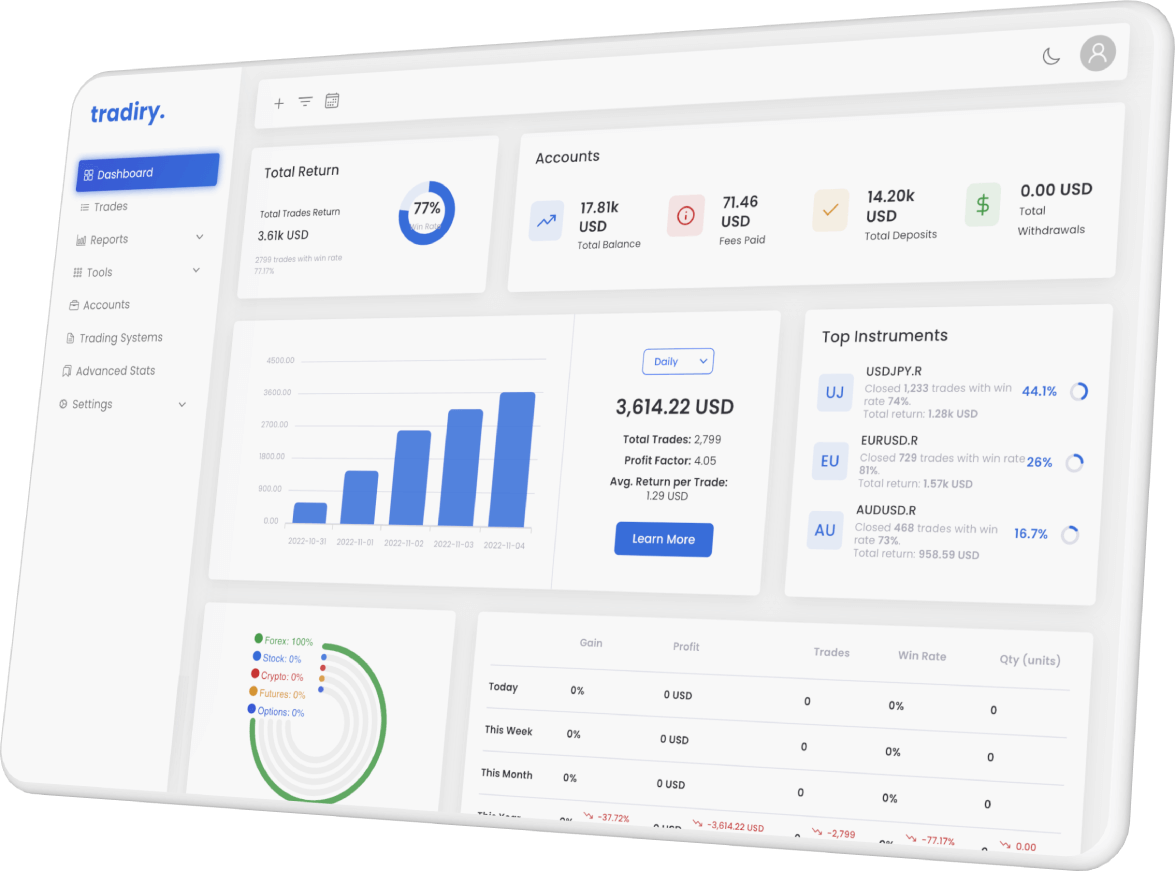 Over

10,000

traders use the trading journal
Take your trading to the next level with Tradiry, the all-inclusive platform designed to meet all your trading requirements. Whether you're an experienced trader or a novice, our free trading journal provides you with the essential tools to enhance your trading performance and attain exceptional outcomes. Improve your trading skills with the best online trading journal.
Seamlessly Tailored to Every Market
Tradiry works for all markets (Crypto, Forex, Stock, Futures and Options).
Effortlessly Manage Multiple Trading Accounts
Our trading journal allows you to track multiple trading accounts
Advanced Stats
Flexible advanced stats will help to find you the strengths and weaknesses of your trading strategy
Free
Our trading journal available for free to everyone *
From Traders for Traders: Measuring Trading Metrics
In the realm of trading, data abundance can pose a significant challenge when it comes to tracking and analyzing your trades. That's where Tradiry, our cutting-edge trading journal software, steps in to provide unparalleled technical support. By seamlessly integrating with your trading workflow, Tradiry empowers you to efficiently manage and scrutinize your trading activities.
With our online trading journal, logging trades becomes a breeze. Our meticulously designed interface allows you to capture and organize all the essential details that hold utmost importance to your trades. Whether it's exit and entry prices, precise dates, or any other critical parameters, you can effortlessly record them in our user-friendly trade log. This meticulous record-keeping ensures easy retrieval and accessibility of trade information for future use.
Tradiry not only simplifies the tracking of closed trades but also offers real-time monitoring of active trades. Seamlessly maneuver through your portfolio, keeping a watchful eye on your open positions and average profits. Gone are the days of cumbersome paper trade journals or cumbersome Excel spreadsheets. Tradiry's sophisticated software streamlines your trade management process, eliminating potential pitfalls and enhancing your overall efficiency.
By leveraging Tradiry's powerful features, you gain a competitive edge in the trading arena. Our software enables you to spend more time on what truly matters – executing intelligent and strategic trades. With Tradiry as your trusted companion, you can navigate the markets with confidence, knowing that your trade data is meticulously organized and effortlessly managed.
Improve Your Performance and Trading Experience with our Comprehensive Trading Journal
Discover the remarkable capabilities of our trading journal, meticulously designed to cater to traders of all levels of expertise. With a comprehensive set of tools at your disposal, you can take your trading journey to new heights:
Effortlessly journal your trades, enriching them with notes and uploaded charts for enhanced analysis and future reference.

Seamlessly add and manage multiple trading accounts within a unified platform, ensuring streamlined portfolio management.

Amplify your trading strategies with our robust trading system manager, allowing you to meticulously organize and optimize your approaches. Track your trading performance and trading habits.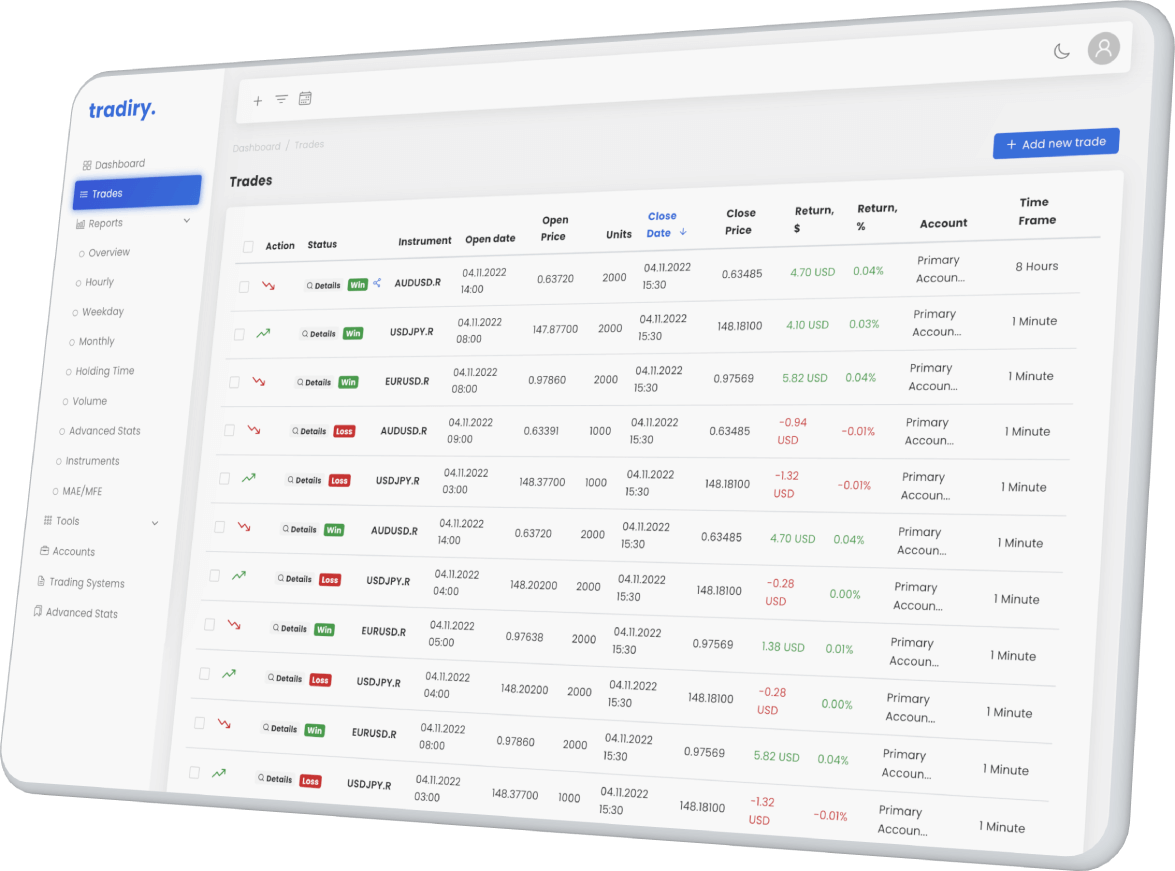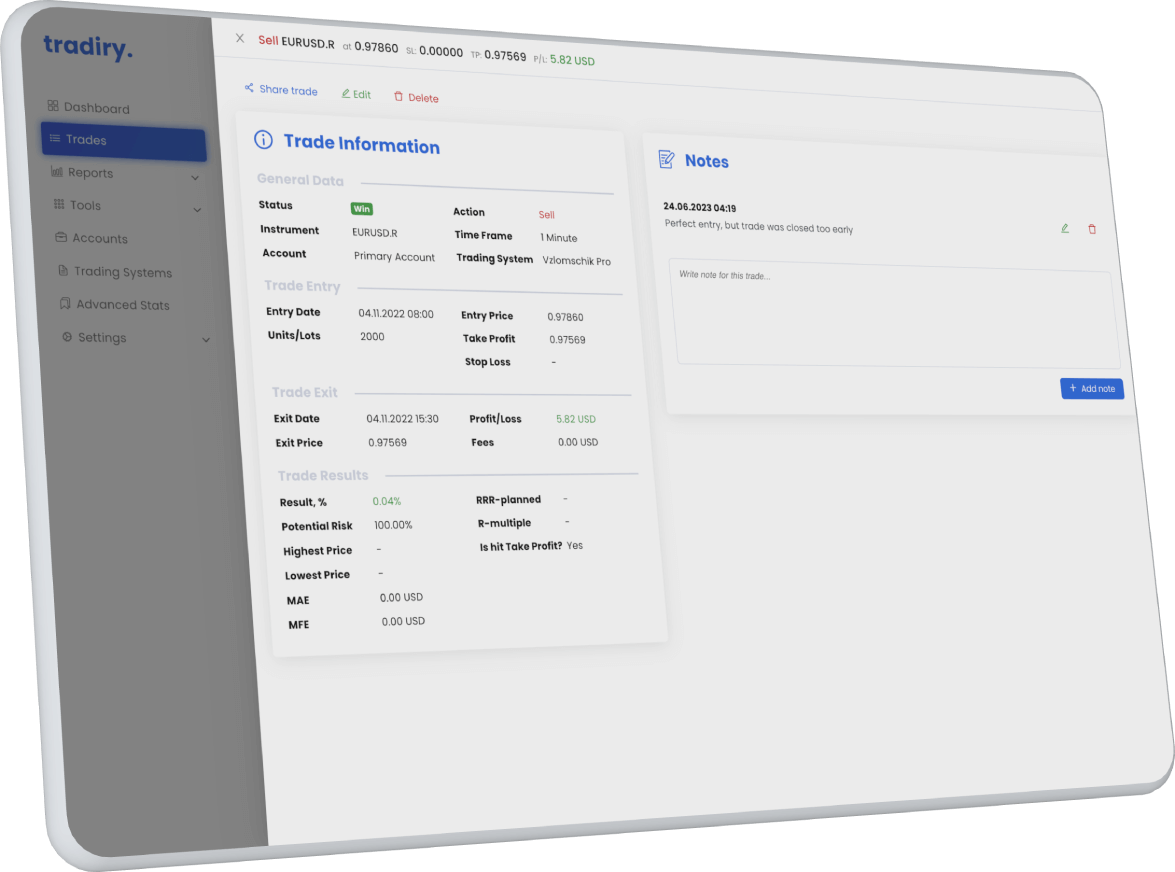 Dive deep into the analysis of your trades with our comprehensive reports section, unlocking valuable insights to drive informed decision-making.

Gain a competitive edge by leveraging advanced statistics, empowering you with deeper information and key metrics about your trades.

Foster collaboration and learning by sharing your trades with friends or mentors, facilitating knowledge exchange and feedback. Use your forex trading journal to find patterns in your trading behavior.

Streamline your trading workflow by effortlessly importing your trades from popular platforms like MetaTrader 4 (MT4), MetaTrader 5 (MT5), cTrader, and anticipate future compatibility with Binance and ByBit. See a complete list of supported brokers.
Detailed Reporting Trading Journal Software to Help You Find Your Edge
At Tradiry, we understand the importance of keeping track of your trading activities and analyzing your performance. We provide comprehensive and user-friendly trading journal software with detailed reporting features. Using these powerful features, you can gain valuable insights into your trades, monitor your progress, and make informed decisions to improve your trading strategy.
Profit and Loss Tracking: With our detailed reporting, you can closely monitor your profit and loss (P&L) across different trades and periods.

Trade Analysis and Statistics: Our platform offers robust analysis tools to help you delve deeper into your trading performance.

Visual Charts and Graphs: Visual representations are essential for quickly grasping complex data.

Performance Metrics Comparison: Use the trade journal to compare different periods, trading strategies, accounts, or trading instruments to evaluate their performance. Improve your performance and trading business results.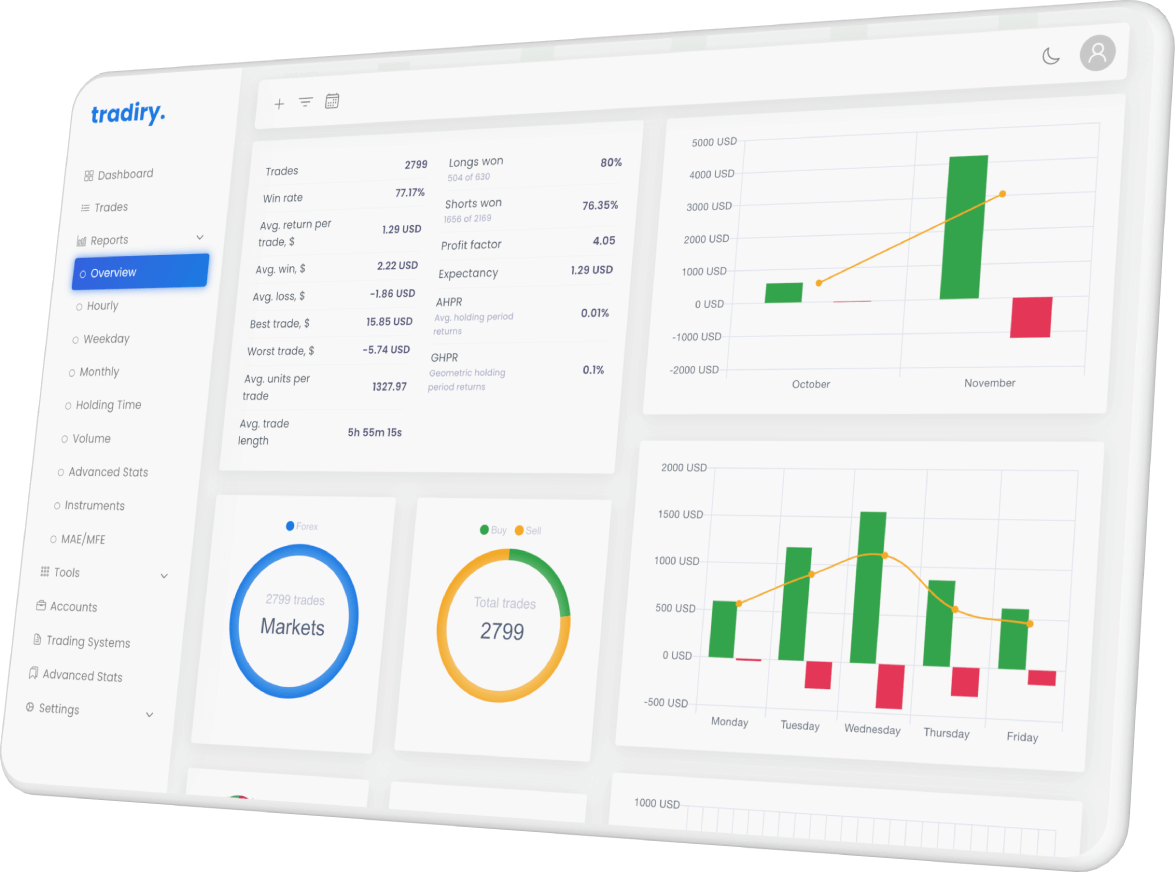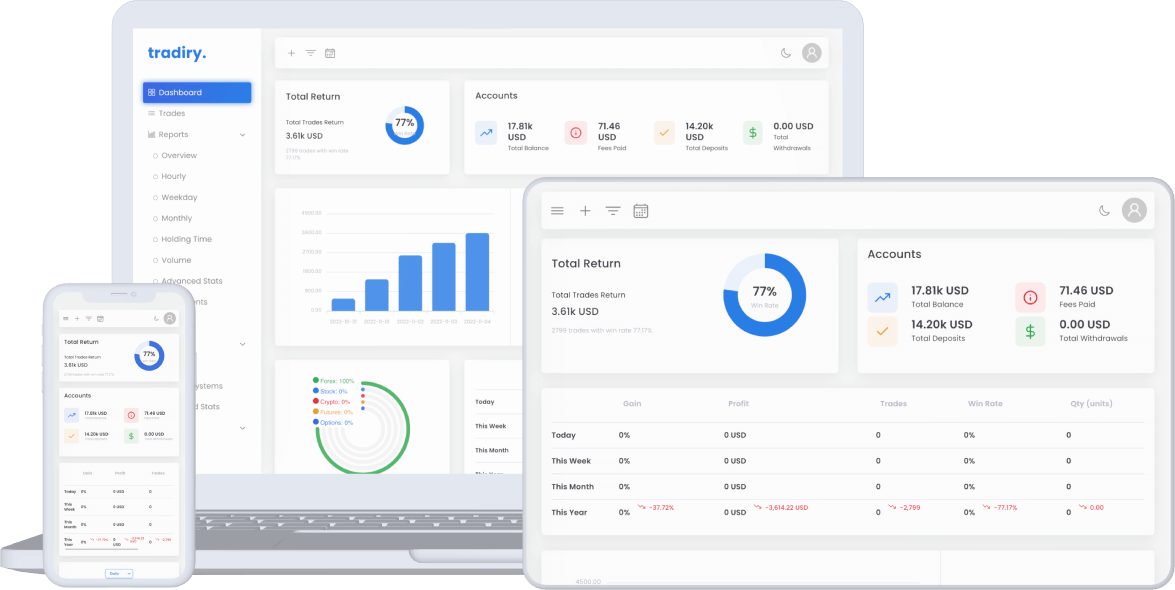 Accessible Data Anywhere for the Ultimate Trade Planning Strategies
Tradiry is a web-based trading journal platform that provides seamless access across desktops, tablets, and mobile phones (smartphones). Our user-friendly interface and optimized design allow you to review your trades conveniently from any device, ensuring accessibility and flexibility in your daily activity. Track and manage your trading goals anytime, from anywhere.
Desktop, Tablet, and Mobile Compatibility: Tradiry's web-based platform is designed to adapt and function flawlessly on multiple devices. Use our trading journal app to track your trading patterns.

Seamless Synchronization: Our platform offers seamless synchronization across all your devices. Use our unique trading journal to track trading losses and wins. We make it easier than ever before to track your trade history.

Responsive Design and Intuitive Interface: Tradiry is built with a responsive design, ensuring optimal performance and layout adaptation across various screen sizes.
Revolutionize your trading journey with Tradiry – the ultimate trading journal software built to optimize your trading success.
Tradiry trading journal available for any markets, and works with trading accounts in all currencies.
Share your ideas with us
Tradiry trading journal was developed by professional traders with extensive experience, aiming to provide traders with a comprehensive tool for enhancing their trading performance. However, continuous improvement is essential in the fast-paced trading world. We value your feedback and ideas, as they play a vital role in shaping the future of our platform.
We encourage you to share your thoughts, suggestions, and feature requests. We are eager to hear from you, whether it's a new analytical tool, a customization option, or any other functionality you believe would benefit the trading community. Your input allows us to align the journal with the evolving needs of traders worldwide.
Our team of experts is committed to reviewing each suggestion we receive. We take your feedback seriously and consider it a valuable opportunity to refine our trading journal further. By actively involving our users in the development process, we can ensure that Tradiry remains at the forefront of innovation in the trading industry.
Thank you for being part of the Tradiry trading journal community. Together, we can create a powerful tool that empowers traders to achieve their goals and excel in the dynamic world of trading.
Contact us
What is Tradiry?
Tradiry is an online trading journal, which helps to track, analyse and view your trades.
Why is it so important to use a trading journal?
As in any business, it's important to keep track and to monitor the performance indicators in trading. A good trading journal will help you to learn from your mistakes instead of stepping on the same rake.
How much is the Tradiry?
Tradiry Trading Journal available as Free with some limitations and Premium with all features. You may learn more on the pricing page.